RECAP: Los Angeles Trip #2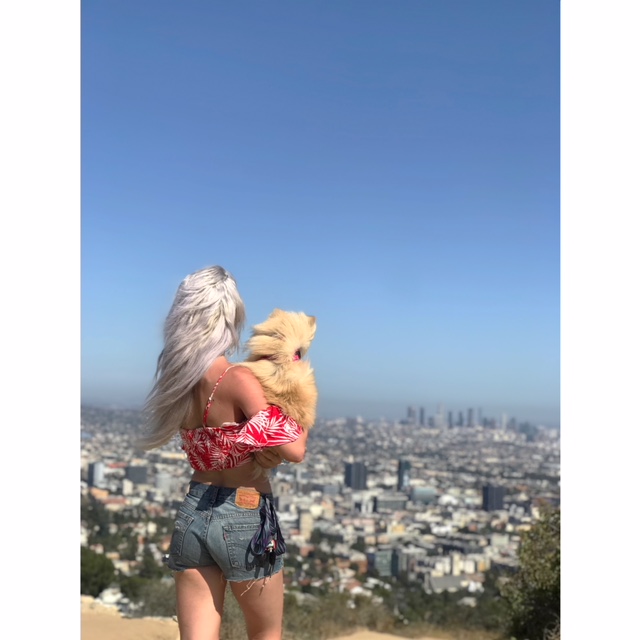 Hey all!!
After a much needed two weeks away I've returned to give you all a summary of my trip to LA- the 10 day road trip from Denver to the West Coast. I have had some interesting life things going on lately that have needed more of my attention. This trip was very helpful for me.
I think there comes a time (or multiple times) in life when you need to step back, re-evaluate, and try something new. I decided on this trip about six weeks ago. Many people have told me that I really should be taking my career to LA. I am so comfortable in Colorado that it took me a while to even entertain the idea. Also, it wasn't up until recently that I decided that for now I will not be going back to school for psychology. It was a hard decision, but I think I am exactly where I am supposed to be right now. Psychology careers will always be there. I can always go get the PhD later in life (i.e. when I can afford it). With all of these intense personal things happening recently, I left on this adventure at the right time.
The actual drive out to LA was a rough one. I could not focus for the life of me. My air conditioning broke right before I hit Grand Junction and it was miserable. Skye was panicking, and a friend told me to stop at an Auto Zone to get a charger for the AC (???). Anyway, I stopped and the younger man was clueless, so the older gentlemen helped me out. I could have googled what to do, but he offered to help me and do it. Well.... I guess he put too much air in and all of a sudden my AC went from barely blowing anything (slightly chilled) to blasting super hot air. I totally panicked. I got another male friend on the phone who convinced the man to try to let some air out and fix what he did. I waited about an hour until the other customers left and he came out and tried again. Luckily he was able to fix the damage and my AC started blowing cold again. By the time all of this was done, the sun was starting to disappear. Skye and I ended up driving mainly in the dark and got a hotel at 4:00 AM in St. George. We tried to stop in Cedar City but nothing was open. Crazy!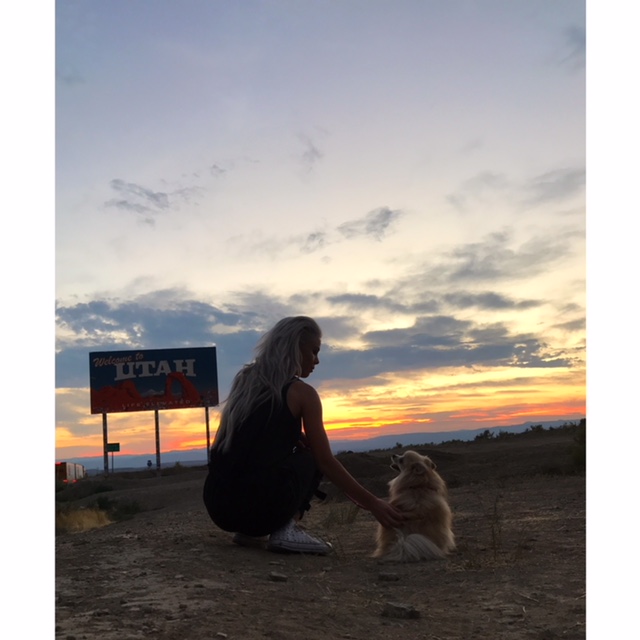 Utah... so hot right now.
The rest of the drive went smoothly, which was such a relief. The drive from Vegas to LA took about eight hours because traffic was such a nightmare, but we survived. I know I went live on IG with you all at some point in the standstill traffic to talk about my VOLOGlam Mag feature (YAY, FINALLY!!!). I'll do a separate posting on that shoot eventually. But... that traffic was brutal. I was so happy to get to my uncle and aunt's house after twenty-two hours on the road.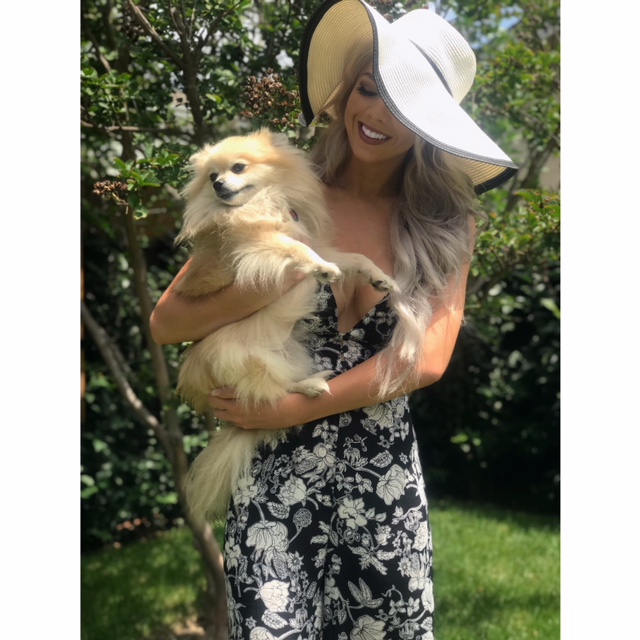 I think we could fit in here.
I spent much of my time in LA wandering around the different towns. I tried really hard to do things that I might do if I were living there as a model/actress. I think I did a pretty good job, with the help of family and friends in the area. I checked out Hollywood Blvd with a drummer friend, ran down to DTLA to get the scoop (Swirl? They just have soft serve?) on Little Damage with a friend I acted with in a music video a few weeks ago, and got to some bomb restaurants in Venice and Malibu beaches with my uncle, aunt, and cousins. I spent most of the trip by myself, which was very important.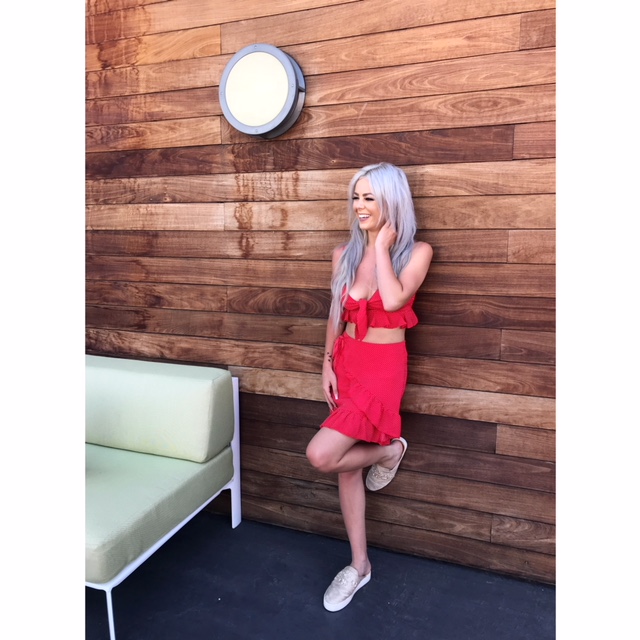 Unpopular opinion: Models love
food.
As for modeling while I was in LA- I had two shoots. I got to do a product shoot for one of my convention modeling clients, Benjilock, and had a blast on set from 9:30 pm- 1:30 am. I had no idea that I would be seeing Robbie again so soon! I'm still so excited that I was able to be on set for this shoot. Location was a gym in Pasadena. My second shoot was with an independent photographer on a dog beach in Long Beach. Skye had a blast running around in the water and attacking the waves. We were both absolutely covered in sand by the end of it. So fun. Major props to models who shoot on beaches all the time. I'm such a mountain girl that the salt sticking to me was driving me nuts. I haven't seen a sandy beach in about four and a half years.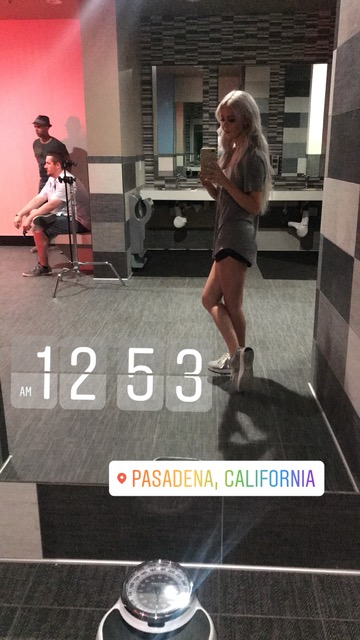 Overall the trip was awesome. No complaints. I had a ton of time to myself. I really got a good look at the scene out here. Thank god that the models aren't as mean as an Uber driver told me they would be. I cannot stand superficial people, or people who have large egos, and I did not meet any while I was out here. Maybe it's because I'm a freelancer- people may be totally different in the "signed" world, though I'm still not sure if I want to go that route. I have looked into several agents, but don't want to give up my current clients who I adore. We will see.
The latest in pup fashion near Melrose
I absolutely cannot wait until our next trip out here. I'm thinking that in a few months, Skylar and I will drive back out to look at apartments. It's all still up in the air though. Any "moving to LA" advice is appreciated (Direct message me on IG @ash_lie.noelle) or send me an email at BookAshlieWynne@gmail.com.
Little Damage was amazing
Now for announcements! I already mentioned my interview in VOLOGlam Magazine (can you tell that I'm a bit excited?) but... how do you all like the photos? Isn't Leif Helsing the absolute greatest? I loved working with him. I'll do a separate blog post on the interview, but I want you all to see it, so I'm going to link the absolute crap out of it:
I should be doing another shoot with Matt Archer soon enough (pizza themed- whoo!), so stay tuned for that. It's coming! I'm traveling most of this summer, so I'm not sure when I will be doing it.
I am also hoping to get my shoot for my featured photographer in July done soon. I take off for New Mexico in a few days, so I don't have very much time. It will be awesome, though. I have August's featured photographer already picked out, so send in for September if you are interested in doing a collaboration and getting a feature on my website for the month you are chosen for.
Refresher on how this works:
I go through submissions and choose photographers who are extremely professional, have beautiful, quality, and consistent work, have a large following on social media, and who are excellent at communicating. You must approach me with a clear concept that is fashion, lifestyle, or fitness (I do not trade boudoir work). It is not enough to just have one of these requirements. I love giving back to hardworking people and want to show everyone the best work. I may contact models that you have worked with for reference. If I don't choose you, don't take it personally! Submit again in a few months with updated work and a new concept.
My travel schedule is up online, but I am headed to ABQ next and have one slot left for booking. Shoot me an email or a direct message on IG if you want to claim it! After that, I am headed to Western New York for a little vacation. I will be booking a few shoots there as well, but want to spend most of my time with family. These slots will go quickly as they are in my hometown and are limited. Let's plan ahead!
That's it for now though. Thank you to everyone who tuned in tonight, and send me any questions you may have.
Goodnight from one last night in Los Angeles!
xoxo
ashlie noelle